F6 INDUCTOR

The F6 Inductor
 
The F6 Inductor is a completely new approach to injector design.  It was developed in an effort to improve the efficiency of today's roots superchargers, and resulted in a design, which provided inconceivable power gains and was awarded a U.S. Patent.  This patented design has proven itself in multiple dyno tests and with on track performance as well.
Our extensive dyno test results have consistently shown a power gain ranging from 200 to 400 horsepower, depending on the style injector being compared to.  Direct comparisons have been made to most injectors available today, (buzzard style with and without radiused floor, upright with air cleaner, 4-butterfly horizontal magnesium, 4-butterfly carbon fiber, etc).  Without exception, every test has shown a gain of 2 to 5 pounds of boost, and an increase in required fuel (methanol) volume of between 10 and 15 percent.
On track performance has paralleled the dyno results as well.  In 2005, the F6 earned a historic double win at the prestigious National Farm Machinery Show in Louisville, Kentucky, a national championship, 29 event wins in modified tractor and 2wd classes, as well as multiple low qualifier awards on the drag strip.  2006 was an excellent year as well, with countless wins and modified tractor national championships on both the NTPA and OUTLAW pulling circuits. Please see the "customer" page for more information on each individual's accomplishments.
The U.S. patented design of the F6 Inductor has delivered outstanding performance and reliability to all of our customers.  In today's racing world everyone is looking for an "edge" over the competition, and by running an F6 you will have just that… an edge.  It is very reassuring to know that you have a decided advantage over your competition before you even pull on the track.  We would truly appreciate the opportunity to answer any questions you might have regarding how an F6 will work with your combination.


F6 Inductors Ready For Delivery
 
Specifications
Every F6 is custom manufactured to provide our customers with the best injector available for their combination.  No longer do you have to settle for a  "one size fits all" component.  The F6 comes standard with the injector housing, restraint plate, throttle shaft, butterflies, throttle stops, barrelvalve mounting bracket, and all mounting hardware.  Several variations are available, and the options are listed below.
Blade Bore Configuration-  We offer the F6 Inductor in two blade bore configurations which are classified as "Drag Race" and "Pulling".  The drag racing injectors are designed for applications requiring instant acceleration, where the blades are immediately snapped open.  The pulling injectors are designed to offer excellent throttle control as the blades are rolled open.  This is an extremely valuable feature for today's high horsepower pulling vehicles.  It provides the driver with more control during the critical transition from idle to wide-open throttle, allowing him/her to keep the tires hooked to the track.
Opening Length-  F6 Inductors are available to fit superchargers with opening lengths up to 14".  Each F6 is manufactured to match your application.  Please see the order form for measurements we will need for our design.
Opening Location-  Different brands and styles of superchargers have the opening in various locations relative to the mounting bolt pattern.  Each F6 is manufactured to match your supercharger opening.  Please see the order form for required measurements.
Restraint Plate-  Each F6 Inductor incorporates an adapter plate, which serves as the supercharger restraint as well.  These are available with or without straps.  If straps need to be provided, we offer them in SFI 14.1 or 14.2 (with bag) safety specifications.  Stroud Safety in Oklahoma City provides all of our restraint installations.  They offer excellent products for all of your racing needs.  Please check them out at www.stroudsafety.com.



SFI 14.2 Restraint     SFI 14.1 Restraint     SFI 14.1 Restraint
Plate Assembly         Plate Assembly         Plate Assembly
(With Blower Bag)                               (Ready for Delivery)
Reverse Mounting Restraint Plate- For applications requiring the injector to be reversed on the blower such as drag boats or multi-engine tractors, we offer a special restraint plate which doubles as an injector mounting adapter plate. This adapter allows you to keep the injector outlet centered over the supercharger opening, maintining the excellent air entry path for the blower.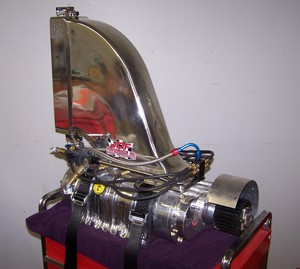 Anodizing-  F6 Inductors come standard as polished aluminum.  Anodizing is optional.  Please contact us for details.
- Enderle Fuel System Components
We are an Enderle dealer and offer complete injector assemblies with barrel valve, distribution block, etc. 
- Throttle Cable Brackets
CNC machined throttle cable brackets are available for the F6.  This bracket provides a clean, convenient mounting point for any throttle cable.  It attaches to the front-mounting studs of the injector using the existing hardware.


F6 Throttle Cable Bracket
- Rubber Nozzle Hoses
We offer rubber nozzle hoses made to any length.  In addition, we have hose kits for most existing applications.
- Supercharger Idler Brackets
 
- Supercharger Adapter Plates